GREETINGS
After being part of corporations listed in the First Section of the Tokyo Stock Exchange for
20 years, I have used my experience in machine design and product development to build
HarmoTECH. It has now been over 14 years since establishment. We are grateful for your support,
especially throughout the hardship we faced during the global financial crises, and to those who
have made our company possible.


I too, was given the opportunity to work as a designer, and could gain further experience from
the work.


While based in Hamamatsu, we are currently expanding collaborations such as contracted designs,
Technician Dispatchment, CAD Education, and training of new employees with various distinguished companies across Japan
including Kanto, Shinetsu, Central, Sanin, and Kyushu regions.


In 2022, the end of the Covid-19 wreck that began with the beginning of 2020 is finally coming
to an end. As the world was confused, the influence of Covid-19 on our business was greatly
overshadowed. However, in the meantime, we were able to launch some of our own products.
As HarmoTECH welcomed its 15th anniversary in 2022, the company took this opportunity to
review and conduct new business operations for the 20th year. We wish to continue to contribute
to the community through the use of 3DCAD, advanced designs, and manufacturing, while building
relationships with many people.

ABOUT US
Company
Name
HarmoTECH Company Limited
CEO
Shinji Morifuji
Address
Chanson Building Hamamatsu 10E-2/125 Daikumachi, Naka Ward Hamamatsu, Shizuoka
Founded
May 1, 1974 (May 2008 Company name and statute amendment)
Capital
¥8,000,000
Business
Banks
Saga Bank, Hamamatsu Iwata Shinkin Bank
EQUIPMENT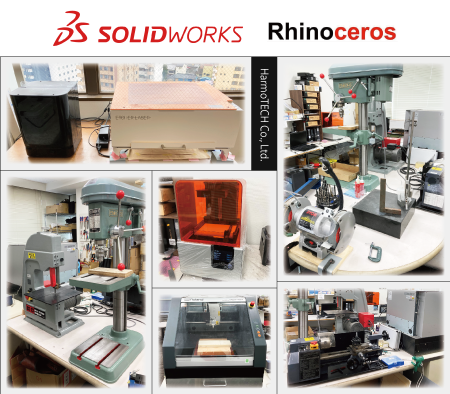 SOLIDWORKS Premium
SOLIDWORKS Standard
SOLIDWORKS Composer
SOLIDWORKS Simulation
SOLIDWORKS Visualize
Rhinoceros

3D Printers
Desktop Modelling Machine
Table Band Saw
Lathe
Microscope
Laser Marker
Sandblaster
grinder
Vacuum forming machine